Are you as excited about this weekend as I am? I've been waiting for months for NSD so I could buy some of my favorite goodies! I've filled up my Paypal and I'm itching to start spending! Where are you going to be hanging out this weekend? I know where you all should be...
GINGERSCRAPS
!!! We've got lots of cool contests and games and the most amazing prizes in all of digiland! You should definitely stop in and join in the fun! Here's a little list of what's happening this weekend. :)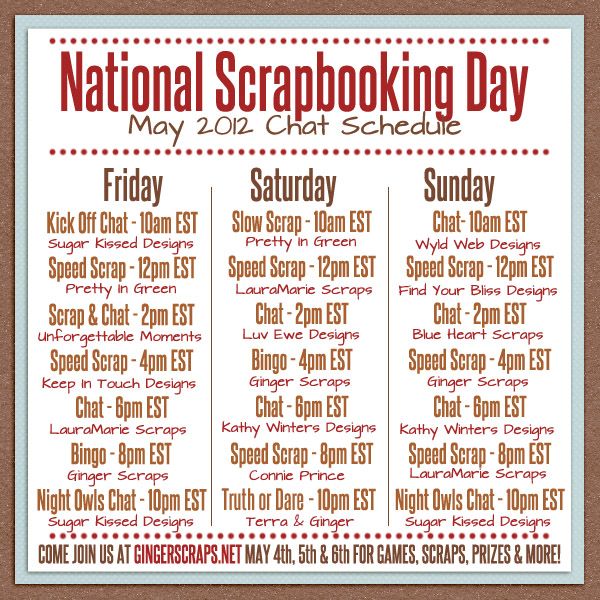 And don't forget the amazing sale this weekend! GingerScraps is having a 50% OFF SALE! Plus, we still have the $1 Buffet: A MATCH MADE IN HEAVEN, and the $1 Bake Sale! I've got LOTS of awesome products on sale for only $1 each!
I've been working hard this week to get some amazing new GRAB BAGS ready for this weekend and I don't think you're going to be disappointed! First up...
I CALL HER MOM: NSD GRAB BAG
!
I CALL HER MOM: NSD GRAB BAG

From the time we are born and right up through the years, the most important person in our lives has to be our mother. I CALL HER MOM pays homage to that wonderful, amazing person!

Included in the kit are:
1 alpha with uppercase, lowercase and some punctuation,
16 textured and patterned papers,
8 solid papers,
3 bows, 4 buttons, 7 flowers, 3 frames, 3 hearts, 2 journal tags, 2 lace flowers, 2 leafs, 4 medallions, 3 mini-flowers, 3 ribbons, 3 ricrac, 1 staple, 1 stitches, 1 string, 1 swirl, 7 wordtabs, 1 blank wordtab, 2 zipper flowers.

Included in the template pack:
4 templates in PNG, PSD, and TIFF formats.

Included in the stacked paper pack:
4 12x12 stacked papers. Each measures at 12x12 inches and was created at 300 PPI for optimum print quality.

Included in the alpha pack:
10 alpha sets in sheets, some including numbers and punctuations.
I LOVE TEMPLATES: NSD GRAB BAG

Included in this Template Grab Bag are 4 sets of templates, with 4 templates in each set! That's a total of 16 templates for one low price!

Each template was created at 300 PPI and measures at 12x12 inches.